Yoga retreats are pretty popular these days.
Advertised as a way to relax, unplug, and unwind, the yoga retreat is a chance for anyone struggling with their fast-paced life to slow down for a day or two.
Book a yoga weekend retreat at a local spa, and you can look forward to two days of pampering, quiet contemplation, and some serious stretching.
So, what if you can't go to a retreat right now?
Maybe you don't have the cash to splash on a relaxing vacation, or you're limited in local options offering the right events.
Don't worry – you can unlock your own yoga benefits for men and women in the comfort of your own home.
While you might not be able to replicate all of the potential treatments you can have at a retreat at home, you can channel the most important parts of the experience.
Here are some handy insights on how to enjoy a yoga retreat at home.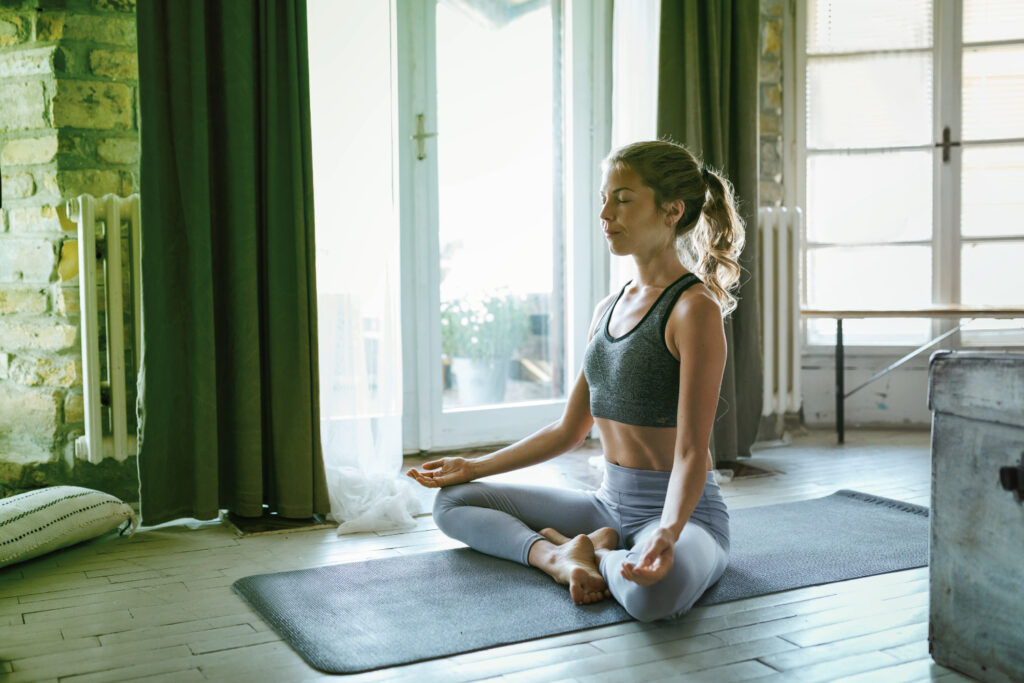 Make sure you do the prep work
First things first, you need to choose the right time for your yoga retreat. Since you're not traveling anywhere, there's no need to plan for a long weekend so you can drive to your destination.
A standard weekend, or even just a day or two off should be enough.
Some people recommend 3 days for a yoga retreat if you really want to get the most out of the experience but learning how to listen to your body again will benefit you in small doses too.
Once you've chosen the right time, prep for the experience by:
Decluttering
Clutter steals your attention and your energy. Before you're going to have your "retreat" take a few hours to go around your home and transform it into a more relaxing setting. Get rid of any mess, wash the laundry that's piling up, and throw some new sheets on your bed.
It's helpful to get rid of tasks that might distract you too – like paying bills.
Setting your intentions
Decide what you're going to try and get out of this "retreat." Are you trying to relax and get rid of some excess stress? Do you want to find the answer to a question that's been bugging you? It's often helpful to go into these experiences with a goal in mind.
Tie up your loose ends
It's hard to shut off from the outside world when people are calling you about an email you forgot to send, or your friend comes by for a coffee. Tie up the loose ends in your life to ensure that no-one has a reason to disturb you.
Create your oasis
With the prep work done, it's time to transform your home into a yoga retreat. That means unplugging all of your electricals, and even moving them out of the room completely if you have to.
This is a time when you don't want anything to distract you – even the lure of Netflix.
Replace the distractions in your home with things that are going to make you feel good emotionally. We're talking soft cushions that you can lounge on, delicious smelling candles, and soft blankets.
Anything that's going to make your home feel more inviting and tranquil is a bonus right now.
As you physically prepare the space for your yoga weekend retreat, ensure that you have all the things you need to remain comfortable and well-nourished.
That means plenty of ice-cold filtered water, meals that are already prepped and waiting in the fridge, and maybe the occasional smoothie or homemade juice. Treat yourself to healthy indulgences. This is an opportunity for you to pamper yourself with the things your body really needs.
As you work, allow yourself to slip into the mindset that the next couple of days are going to be all about you.
Lean into the experience
On the first day of your home yoga retreat, try to wake up early, so you can sync yourself to the rhythm of the world. This might mean going to bed a little earlier the night before.
Mentally check-in with the goals that you set yourself when you decided to do yoga at home and meditate on that intention. Sit comfortably and focus on slowing your breath.
Since this a yoga retreat, the next stage of your day is the yoga itself. Start with a sequence of asana (physical yoga). These days, you don't need a teacher on-hand to start practicing your poses.
There are plenty of great yoga classes you can stream online such as:
Yoga with Adriene: A free class on YouTube that teaches you some basic poses, along with insights into the yoga way of life. You can even discover how to target specific muscle groups and issues with certain movements.
FLYLDN: This London yoga studio is popular around the world for its gorgeous settings and huge immersive screens. However, you can also check out some lessons for free on Instagram Life. Candle-lit sessions are particularly appealing.
Hello Yoga: For a complete guide to your at-home yoga retreat, try the Hello Yoga app. This app comes with a 7-day free trial so you can check out one-on-one yoga classes with instructors around the globe.
Once you've gotten the yoga session out of the way (we recommend starting with 60 to 90 minutes), break up your day with other relaxing experiences. Reading some Yogi teachings online could be a good idea – as long as you can avoid social media while you read.
Eat a healthy meal or spend some time in the garden to get back to nature.
As you move through the day, practice silence as often as you can, to allow yourself the peace you need to listen to how you feel. It's a good idea to have a journal on-hand so you can make a note of all the things you think and feel.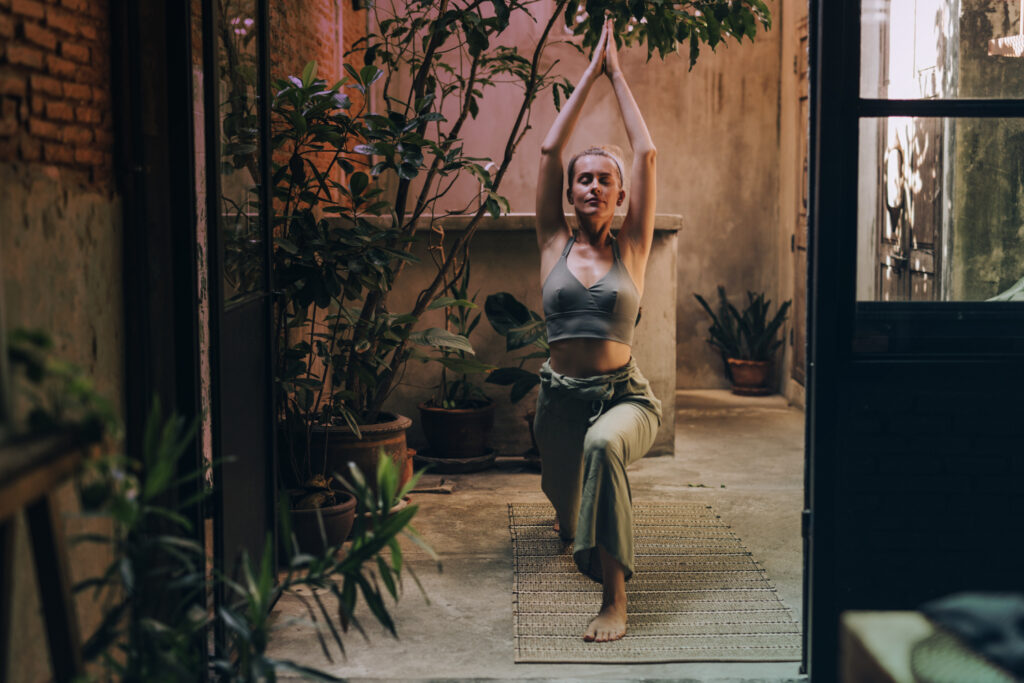 Combine yoga and meditation
For the best Yoga retreat at home, you'll need to mix sessions of yoga with other meaningful mind-and-body experiences. We recommend starting the day with a session that you feel comfortable with.
However, as you progress through your retreat, you could always try something new.
If you usually engage in Vinyasa yoga, try switching to a restorative practice during the afternoon. If you're always doing your sessions indoors, move outside for one of them instead.
This is a chance for you to shake things up and experience something different from your everyday yoga at home.
Experiment with the way that you hold your postures and pay closer attention to what your body tells you as you stretch and move.
Yoga may stimulate brain function and give a boost to energy levels, according to several studies.
Every so often, dedicate a little time to meditation, so you can think about what you've learned so far, and how you're progressing towards the target you set for yourself.
Most of us don't take a lot of time to actually listen to ourselves and think about what we really need in today's fast-paced world. A yoga retreat at home isn't just a chance to get more stretching into your routine.
This is an opportunity to rediscover parts of yourself.
At the end of your yoga retreat
As you come to the end of your yoga weekend retreat, think about what you've accomplished during this time. What did you learn about your mind and body? Did you let any negative feelings go, by switching off from the outside world for a while?
If you turned your phone and emails off throughout the course of your retreat, try to notice that the world didn't fall apart just because you weren't plugged in.
This is an important chance to see that you can take a break from the chaotic digital world, and it will still be waiting for you when you get back.
Remember, throughout your yoga retreat, and towards the end too, give your body as much rest as you can. Go to bed an hour or two earlier than usual to catch up on some of the sleep debt you've been holding onto.
Regular rest will help you to ease back into normal life slowly. Just remember that you can add elements of your yoga retreat at home in your day-to-day life too.
Maybe you could practice a specific movement every couple of days to switch things up.
Time for a retreat?
Sometimes, indulgences like yoga retreats aren't just a way to get away from the city or gather some new photos for your Instagram. They're an opportunity to explore a new frame of mind where you allow yourself to switch off from the hustle and bustle for a while.
If you've been feeling a little overwhelmed by life lately, a yoga retreat at home could be just what you need. Give yourself an opportunity to stretch away the sadness and discover what matters most to you all over again.
ReWired: ReThink Your Life.