Wellness is a broad concept. People who pursue wellness do so by exercising, eating correctly, and getting a good night's sleep.
However, there's a lot more to caring for yourself than you might think.
Sometimes, making sure that you can be well means taking a break from the environments and experiences that cause you stress. Travel is a proven way to reduce stress.
It helps us to feel happier, promotes positive bonding experiences with loved ones, and even encourages self-exploration.
All kinds of travel can give you the extra boost you need to feel betterthan usual.
However, there's one kind of vacation that's getting more attention lately: the wellness retreat.
What is a wellness retreat?
A wellness retreat is any holiday you take with the purpose of promoting your health and wellbeing.
Despite what you might see when searching for "wellness retreats near me" on Google, not all of these retreats are spiritual.
For one person, a wellness retreat would involve switching off all technology for a while and getting back to nature. For someone else, it means slowing down, relaxing, and unwinding with a good book.
If you're feeling exhausted and downtrodden because of bad nutrition, you might even try a wellness retreat that focuses on food.
Because different people need specific things to help them feel well, there's no one-size-fits-all strategy here. The aim is just to take some time and focus on what your mind and body really needs.
To help you track down the best wellness retreat UK cities have to offer, we've done some research.
Here are some of the top wellness retreats you can find if you live close to, or in London: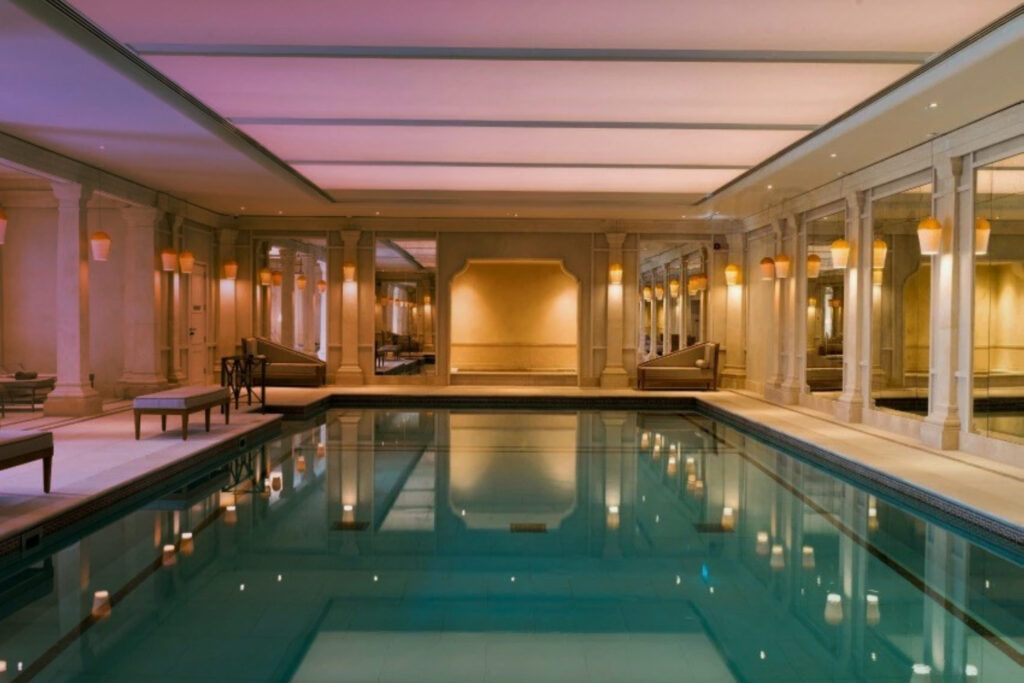 1. Cliveden Spa
Location: Taplow, Berkshire, around 40 minutes from London.
Best for: Luxurious relaxation.
The Cliveden hotel and spa sits within a 17th-century mansion. Inside, you'll find hot tubs, steam rooms, and endless luxurious treatments. Outside, there's an outdoor pool, and acres of beautiful land to explore.
The former home of royalty, this stunning retreat attracts celebrities from all over the globe. The landscaped gardens stay looking beautiful thanks to the help of the National Trust.
Plus, despite the indulgent image of Cliveden, the staff are always polite and friendly – so you'll feel right at home.
You can spoil yourself with dozens of amazing treatments, sit and soothe your woes in a bubbling hot tub, or just turn off your phone and take a walk.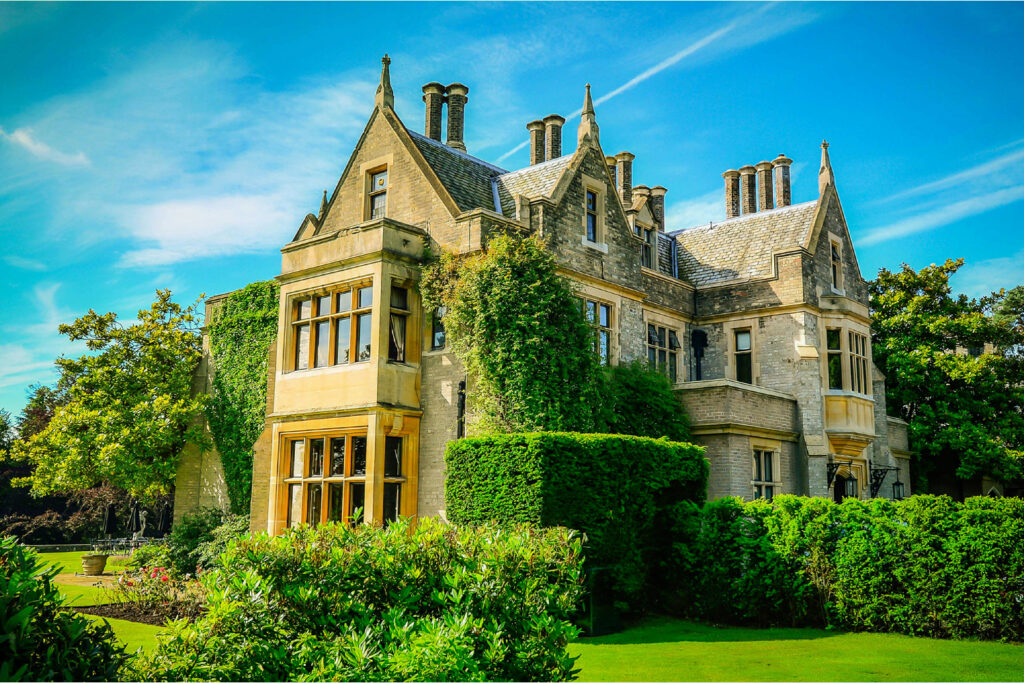 2. White Calm Retreats Foxhills
Location: Surrey, around an hour from London.
Best for: A day of relaxation.
Just a short distance from London and Heathrow, the Foxhills hotel and spa from White Calm Retreats is perfect for tranquility. You can stay for a day or hang around for a little longer.
No matter how long you choose to indulge for, you'll have plenty to do.
Foxhills has two Championship level golf courses, as well as three restaurants to tantalize your tastebuds with. There's eleven tennis courts, four squash courts, and an award winning health spa too.
If you're sick of your hectic schedule and you just want to spend some time relaxing in a pool or playing golf – this is the place for you.
The Foxhills crew can even help you out with a full day itinerary, including yoga and de-stress workshops.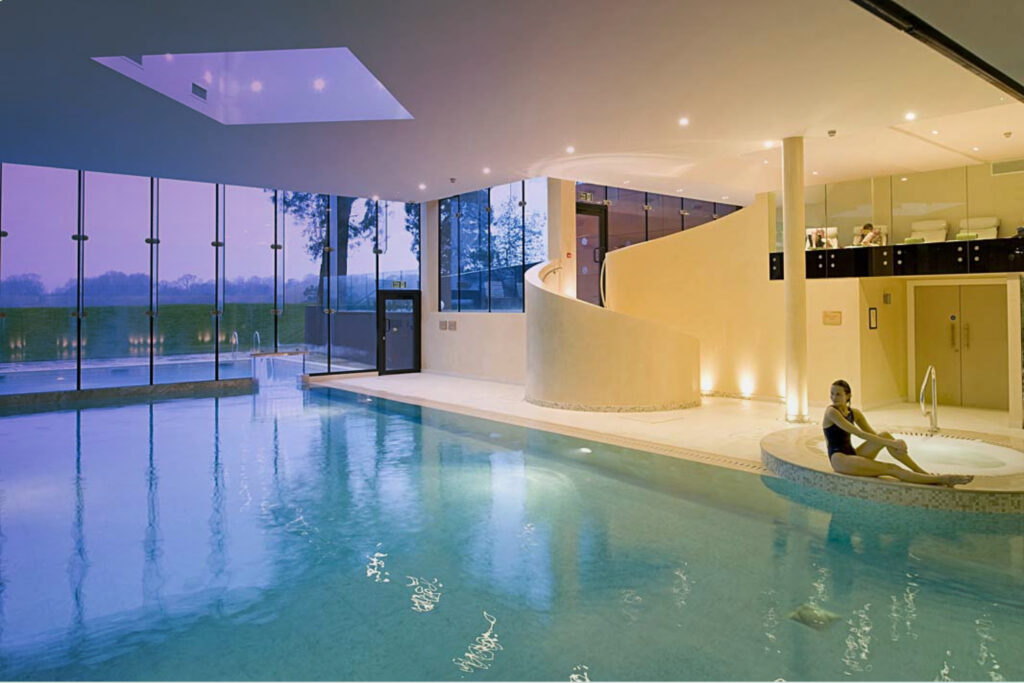 3. Ockenden Manor Hotel & Spa
Location: Cuckfield park, around an hour from London.
Best for: A quaint getaway.
Sick of the hustle and bustle of the city? Get back to nature in a delightful Elizabethan manor, complete with 28 lavish rooms to choose from.
Inside this wellness retreat, you'll find an award-winning restaurant that looks out onto an incredible park. There's an elegant sitting room where you can snuggle up in front of a roaring log fire, and a selection of spas and pools to explore.
The location's natural spring feeds the spa pool here. If you're looking for a more adventurous treatment, you can try the flotation isolation pod.
Alternatively, just shut down for a while in one of the location's dedicated "relaxation spaces."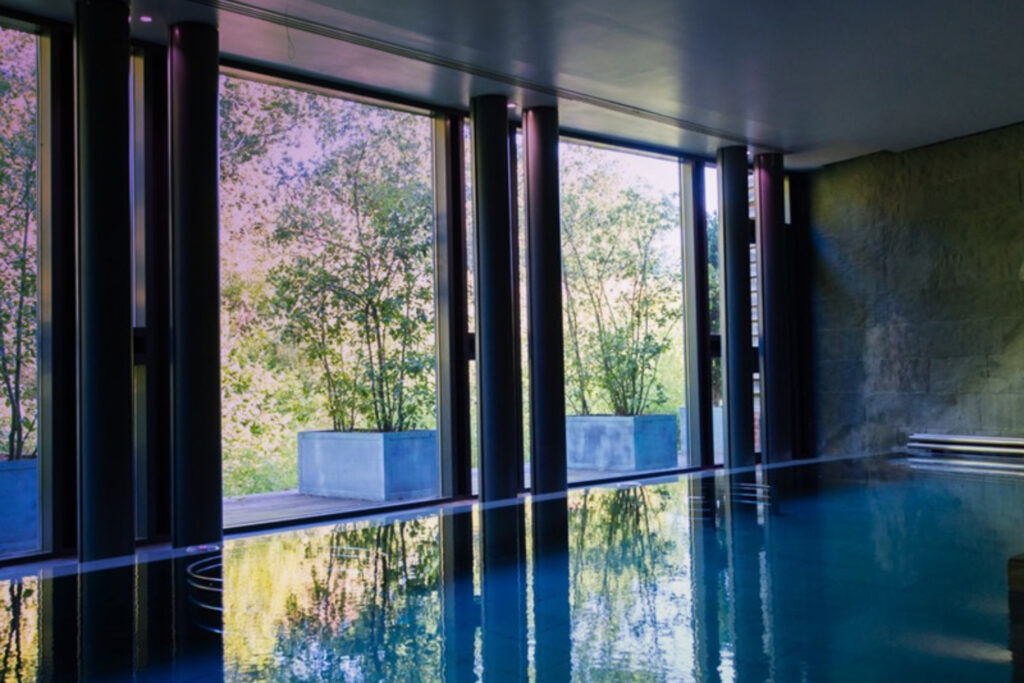 4. Lime Wood Hotel, New Forest
Location: New Forest, about an hour and a half from London.
Best for: A weekend retreat.
Lime Wood hotel is only 90 minutes away from London, but it feels like part of a different world. The fantastical glade in Hampshire's New Forest is brimming with beautiful places to explore.
There's even a Michelin-star chef in-house to serve your appetite.
When it comes to wellness treats, UK holiday-goers can't go wrong with Lime Wood. The hotel features a sauna, steam-room, and hydro pool. There's also a "mud house" where you can really get back to nature – the messy way.
Depending on your preferences, you can stay in an opulent room within the hotel's main house. Or you can hire a log cabin instead.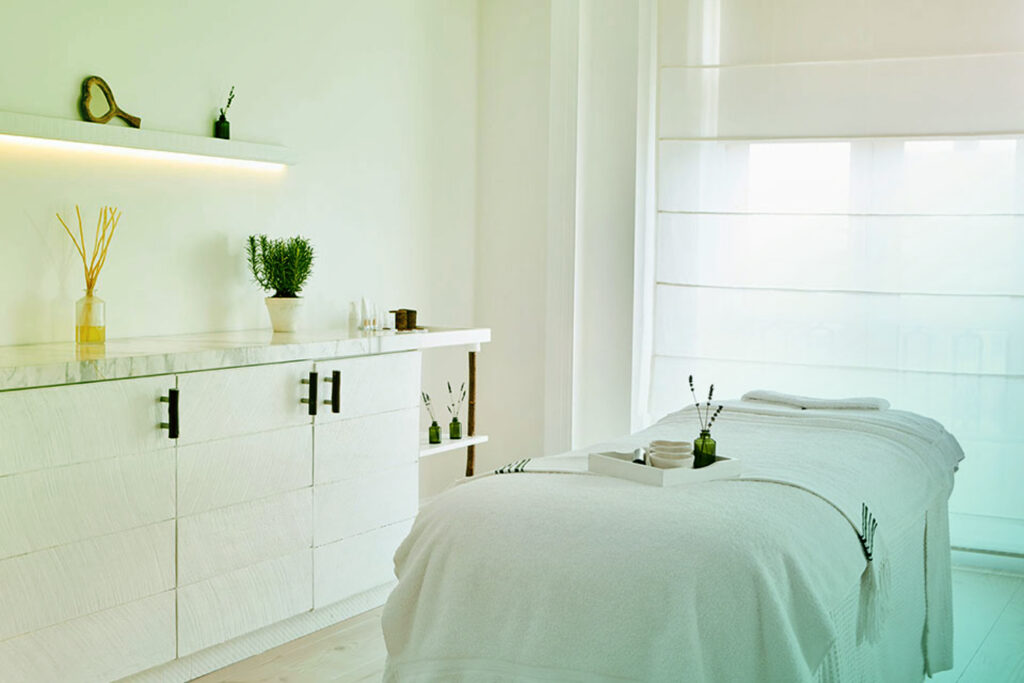 5. The Berkley, London
Location, Wilton Place, London.
Best for: Staying close to home.
If you're looking for an affordable wellness retreat, why not save your money on travel, and check out something close to home? The Berkley Health Club and Spa has its own secret garden and beautiful views across Hyde Park.
On the 7th floor of a beautiful building, guests and members can relax and view London from a brand-new perspective. There are wellness and personal trainers on-hand to help you figure out the perfect treatment package for your needs.
The Bamford Haybarn Spa also provides a holistic approach to wellbeing, with tons of natural treatments.
The Berkley Health Club and Spa shows people in London that they don't necessarily need to leave the city to get a retreat.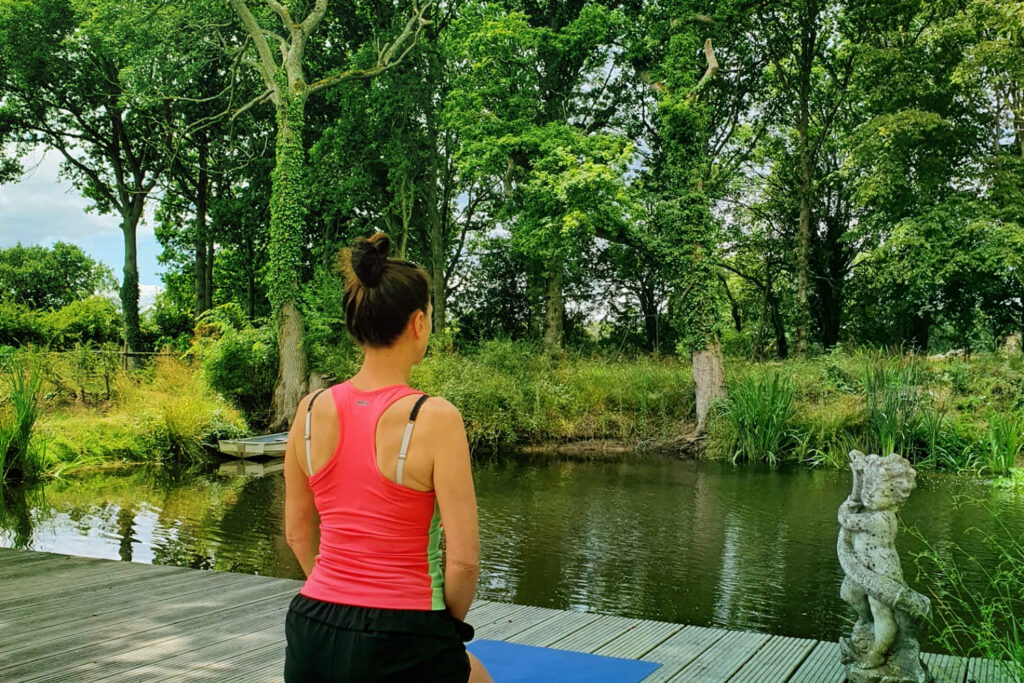 6. Stede Court, Kent
Location: Kent, about an hour from London.
Best for Personalised wellness.
Need a wellness experience tailored to you? Stede Court offers one of the best wellness retreats UK visitors and citizens can find. Stede Court hosts a series of carefully structured day retreats designed to appeal specifically to your needs.
Stede Court is all about rejuvenation and finding balance. Typical retreat activities include yoga and Pilates, saunas, and meditation. You can also find specific retreats that focus on things like gut health or even women dealing with the menopause.
You can find the most recent events on the hotel's website.
Throughout the year, if you just want some time to yourself, you can hire a private residential getaway for between one and eight guests.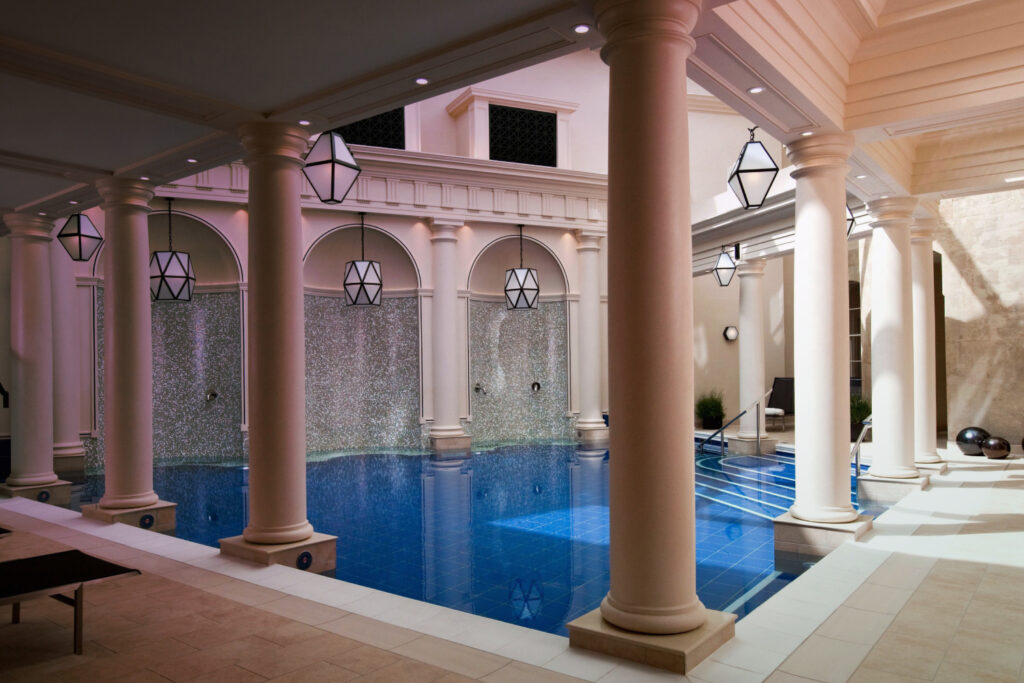 7. Gainsborough Spa and Hotel
Location: Bath, around 2 hours and 30 minutes from London.
Best for: Longer retreats.
If you really want to leave the big smoke behind you for a while, consider a trip to the Gainsborough Bath Spa. It's a little further away from London than some of the other wellness retreat options mentioned here.
But this location also won the AA hotel of the year for England.
The Gainsborough spa is home to the UK's only natural thermal water spa. Here, you can indulge in ancient, mineral-rich waters to sooth away your stress and aches.
If you can pull yourself away from the pool, you can check out five-star meals, and delicious cocktails too.
The double-level spa covers over 14,000 square feet and includes 3 connected thermal pools. The most luxurious suites also have bath-tubs that connect to the thermal spring.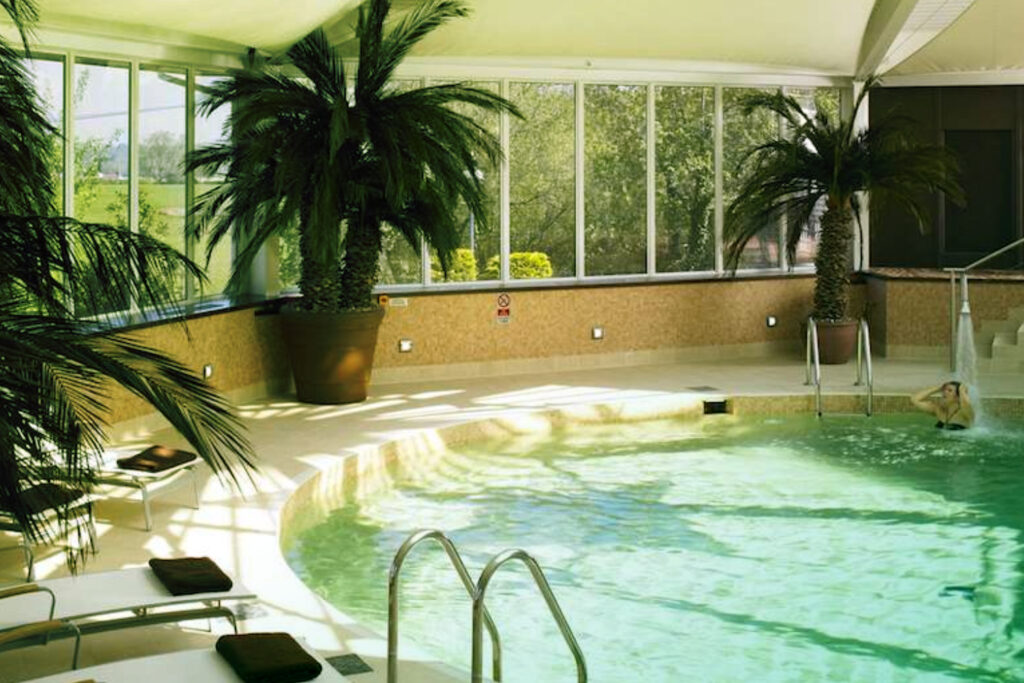 8. The Vineyard, Newbury
Location: Berkshire, 50 minutes from London.
Best for: A delicious retreat.
Finally, only fifty minutes outside of London, you'll find the adorable town of Newbury. Here's where you can book your stay at the Vineyard 5-star hotel and spa.
As you might imagine, there's a pretty big focus on stomach-based wellness here. You get to indulge in fantastic fine wines, delivered straight from the spa's California estate.
There's a double-floored glass cellar cabinet to check out, and five-course wine tasting menus.
As you sip your drinks, you can enjoy all the amazing treats that the spa has to offer. This includes a team of massage therapists, a jacuzzi, and a circular pool with its own current machine.
Time to take a break?
Finding a fun and affordable wellness retreat could be just the thing you need to rejuvenate your senses. The options above highlight some of the top choices around London, for people who need a break from city life.
However, if you're willing to travel a little further afield, you can find dedicated wellness retreats all over the world. There's something out there to soothe away every stress you might have.
Maybe it's time you gave wellness a try.
ReWired: ReThink Your Life.